We believe anyone can create masterpieces in design. To achieve this goal, you need only desire, diligence and discipline. We will take care of the rest.
We have developed a comprehensive training curriculum to master professional IT skills through practice.
IT Nova has been working in the field of IT education since 1999. We work closely with the major media companies. We know what kind of education is necessary for a successful start in the world of digital communications. Thanks to our unique curriculum and project-based approach, our students learn to solve real problems and are able to join the industry even during the training stage.
The value of our "Computer Graphic and Design" professional program is confirmed by thousands of Nova graduates who now work as qualified designers, artists and animators in the largest companies of 36 countries around the world.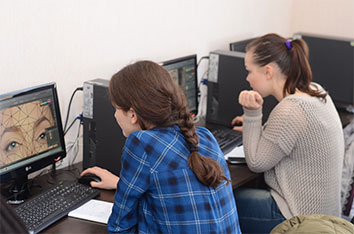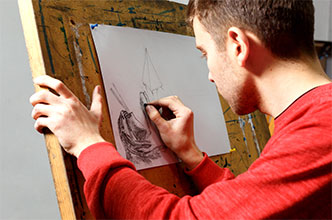 Relevance, expertise, support
Relevance, expertise, support
The IT Nova training process is based on three essential components of effective education.
Current curriculum
The knowledge and skills that our students gain must meet the requirements of employers today and in the future. Therefore, we review and update our curriculum every 6 months.
Trainers with practical skills
IT Nova trainers are IT professionals with at least 5 years of experience. Our students receive only relevant knowledge and skills, applied in practice.
Friendly environment
We have created a special learning environment where trainers and students can communicate as partners, following one goal. Our classrooms and laboratories are equipped with comfortable workplaces, computers and licensed software.
Developed for
This program is developed to
Students (15-18 y.o)
who will receive their first certification in design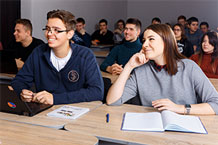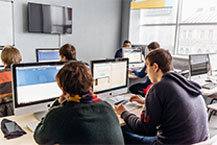 University students (18-23 y.o)
who desire a second specialty in parallel with their university education.
Representatives of other professions (23-55 y.o.)
who are not satisfied with their current careers and financial potential, and wish to train as a designer for an in demand profession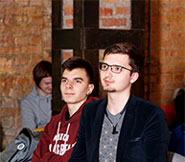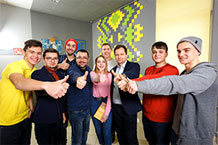 Those who wish to augment their qualifications
structure their skills and gain high in demand working knowledge
You will receive
After 2.5 years students of IT Nova will receive
Maximal practical training
Nova educational process is practice based . We do not have boring lectures; our students are not required to write lecture summaries. All study materials are available on a modern and convenient online platform. Student can study at any place and at any time.
Completed portfolio
By choosing this direction, you will not only become a certified graphic designer, illustrator or 3D animator, but also develop your own portfolio that will help show your talent to a future employer. The ability to think creatively and visualize your own ideas will make you an invaluable professional and help you choose the right vector in shaping yourself as a professional designer.
Employment Assistance
Less theory, more practice! We clearly know that to be successfully employed, you need to have strong practical skils. Through creative tasks, develop your product design from zero to the final launch, enabling a successful start in this area.
Why does the program lasts for 2.5 years, not just 3 months?
Often short courses promise to train a beginner into a qualified professional in just 3-4 months. This is either a lie or an incompetent statement. In such a short period of time, one can learn some basics, but not serious practical skills. After such courses, designers will only be able to perform simple and low-paid tasks and need to learn more on their own in order to advance, constantly filling gaps in this basic education. Many self-taught designers regret that they did not receive fundamental education at the very beginning of their careers. Our professional "Computer Graphic and Design" program covers all the necessary subjects for a professional designer. The program is designed for 2.5 years, or 5 terms. We are confident that this is the right duration to gain the skills and necessary experience to become a high in-demand professional designer
Learning
Syllabus
The core principle of IT Nova is to follow the latest trends in the IT industry. Our training covers the most sought-after areas of design.
Drawing, art history, the most important stages of development and modern design styles
Design and advertising design: creation, psychology of promotion, identity and branding
Professional photos and raster image editing in Adobe Photoshop
Working with vector graphics in Adobe Illustrator
Typography: principles of design of printed text, ergonomics and style
Adobe InDesign. Prepress
Digital photography. Experience of photoshooting in a studio with professional equipment, portrait retouching, product photography
Creating static and dynamic websites: HTML 5 and CSS 3 languages, tools for development, promotion and monetization.
Content Management Systems for Websites
Usability and ergonomics of websites. UI / UX design
SEO and digital marketing
Interactive animation with JavaScript and WebGL
3D Graphics in Autodesk 3ds Max: creation of 3D-objects, polygonal and spline modeling
Visualization of the interior and exterior. Landscape Design
Systems of automated design with Autodesk AutoCAD, work with drawings
3D Animation: Modeling, Visualization and Animation in Autodesk Maya
Video creation and processing, non-linear editing in Adobe Premiere Pro
CGI, VFX and post-production with Adobe AfterEffects
Working with digital sound, sound processing and mixing
Working with raster graphics in Adobe Photoshop.
You will be able
Upon graduation of the course you will be able to
create and develop brands - guidelines and brand books, corporate identity and design elements, signs, logos and other brand assets
create advertising materials- layouts for posters, signatures, billboards- using different creative techniques and design software
Photography using advanced digital technologies- photo editing and post-processing, professional portrait photoshooting and photographic collages, night and macro photography
Create layouts for printed publications- newspapers, magazines, books, advertising printed materials, including prepress
Design, create and promote static and dynamic websites- from the simplest business card websites to large online stores
Create interactive elements of web pages, dynamic menus and control tools, embed video clips using Adobe Animate
Participate in the development of computer games.
Create and edit video clips, combine and synchronize video with sound, manage technical process of video transcription
Create 3D images using the latest modeling and visualization technologies
Interior and exterior design, visualization in environment
Design interfaces for mobile and desktop applications. Design user experience
Create animated movies using 2D or 3D animations and professional special effects
The training process in Nova is focused on developing practical professional skills without any distraction: no written exams, no memorizing, only specific tests for self-assessment.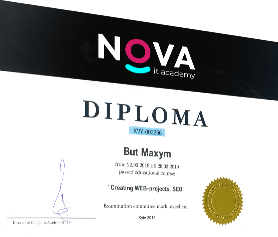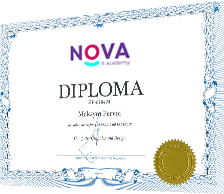 Our graduates receive an international diploma from the IT Nova
and certificates from the IT industry leaders.
Companies
Companies where the Nova graduates work