We believe anyone can become an IT specialist. To achieve this goal you need only desire, diligence and discipline. We will take care of the rest.
We have developed a comprehensive training curriculum to master professional IT skills through practice.
IT Nova has been working in the field of IT education since 1999. We cooperate with major software development companies and know what kind of education is necessary for a successful start in IT. Thanks to our unique curriculum and project-based approach, our students learn to solve real problems and are able to join the IT industry even during the training stage.
The value of the professional program "Software Development" is confirmed by thousands of Nova graduates who now work as qualified developers in the largest IT companies of 36 countries around the world.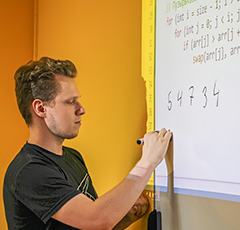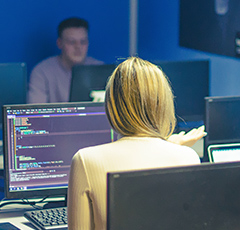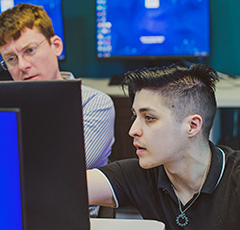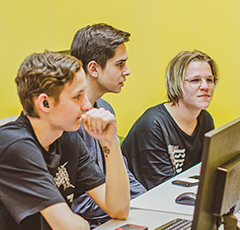 Our values
Relevance, expertise, support
IT Nova training process is based on three essential components of effective education.
Current curriculum
The knowledge and skills that our students gain must meet the requirements of employers today and in the future. Therefore, we review and update our curriculum every 6 months.
Trainers with practical skills
IT Nova trainers are IT professionals with at least 5 years of experience. Our students receive only relevant knowledge and skills, applied in practice.
Friendly environment
We have created a special learning environment where trainers and students can communicate as partners, following one goal. Our classrooms and laboratories are equipped with comfortable workplaces, computers and licensed software.
Our students
This program is developed to
Students and graduates (15-18 y.o)
who will receive their first certification in software development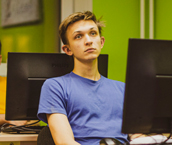 University students (18-23 y.o)
who desire a second specialty in parallel with their university education.
Representatives of other professions (23-55 y.o.)
who are not satisfied with their current careers and financial potential, and wish to train as a software developer for career in the IT industry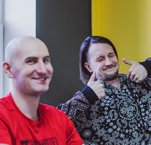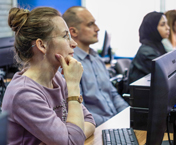 Those who wish to augment their IT qualifications
structure their skills and gain high in demand working knowledge of modern IT
Students
After 2.5 years students of IT Nova will receive
Maximum practical training
Nova educational process is practice based. We do not have boring lectures, our students are not required to write lectures summaries. All study materials are available on the modern and convenient online platform. Students can study at any place and at any time.
Completed portfolio
IT Nova students work on interesting projects, following IT industry demands and employers' needs . The final step of the educational program is a graduation project. Students' projects are included into a professional portfolio which gives them a cutting edge in successfully finding employment.
Employment assistance
Representatives of leading IT companies attend students' projects presentations, and participate as jury members and speakers at hackathons and IT competitions organized by Nova. Hardworking and talented students are recruited even before graduation!
Why does the program last for 2.5 years, not just 3 months?
Often short courses promise to train a beginner into a qualified professional in just 3-4 months. This is either a lie or an incompetent statement. In such a short period of time, one can learn some basics, but not serious practical skills. After such courses, programmers will only be able to perform simple and low-paid tasks and need to learn more on their own in order to advance, constantly filling gaps in this basic education. Many self-taught programmers regret that they did not receive fundamental education at the very beginning of their careers. Our professional "Software Development" program covers all the necessary subjects for a professional designer. The program is designed for 2.5 years, or 5 terms. We are confident that this is the right duration to gain the skills and necessary experience to become a high in-demand professional.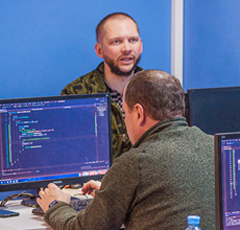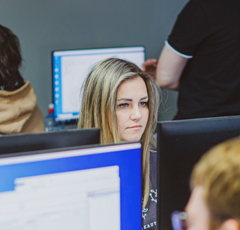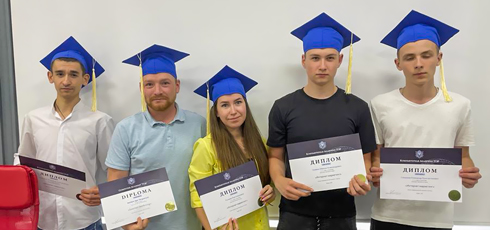 Curriculum
Syllabus
The program is IT industry demand driven. Our methodologists and trainers are constantly working on improving and updating the curriculum to ensure that Nova graduates can demonstrate their best skills to future employers.
Introduction to algorithms theory and data structures
Programming language C
Object Oriented Programming Using C ++
Using the standard STL template class library
Developing Windows applications using Visual C ++ and WinAPI
Database theory. Database management systems: programming principles of Microsoft Database Access, MySQL. Authorized Courses of Microsoſt IT Academy
Programming and administration of Microsoft SQL Server 2012
Oracle Database Programming
System programming (threads, processes, synchronization primitives, interprocess communication). Network programming (sockets, synchronous and asynchronous data exchange mechanisms, protocols)
Object Oriented Design. UML language
Software Project Management
IT Essentials. PC Hardware and Software - Cisco Networking Academy Authorized Course
Hardware of workstations and laptops
Installation and configuration of Windows 10
Developing websites using HTML5 markup language and CSS3 cascading style sheets
JavaScript scripting language
Extensible markup language for websites development - XML
Creating web applications using PHP programming language and AJAX technology;
Application development using Client-Server technology. Creating apps for Microsoft .NET platform
Building cloud solutions using Windows Azure
Programming with Java
Android OS applications development for mobile devices
Game development
Design Patterns
Software Testing (QA)
Download detailed curriculum
Course
Upon graduation of the course you will be able to
Create Windows applications using client-server technologies, graphics, databases and multimedia
Fast and accurate calculation of algorithms for tasks and implementation cost
Design and management of databases of different complexity and size
Develop web-based applications that respond to user actions and provide information stored in databases
Automate database management based on the client's task and requirements
Participate in the development of computer games
Modify programs and applications for specific tasks
Develop network applications
Create utilities that solve everyday user problems
Create applications and dynamic web-units based on the .NET platform
Ensure application security using encryption, authentication, and secure connections
Test software by applying modern technologies; design software projects regardless of the implementation language
How is the training
How we teach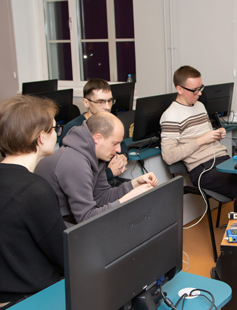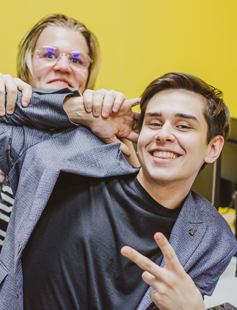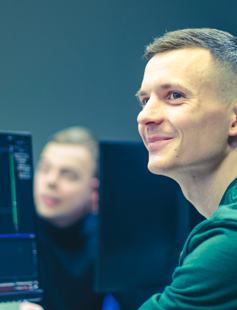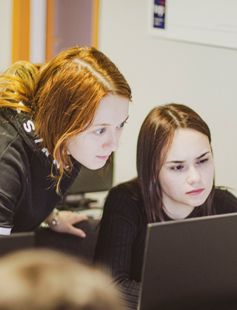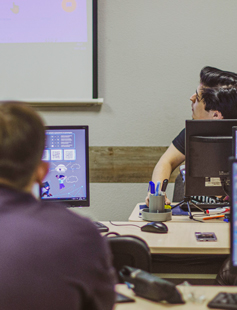 The training process in Nova is focused on developing practical professional skills without any distraction: no written exams, no memorizing, only specific tests for self-assessment.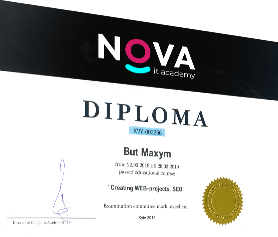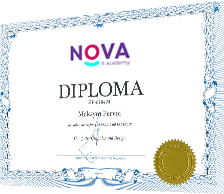 Our graduates receive an international diploma from the IT Nova
and certificates from the IT industry leaders.
Companies
Companies where the Nova graduates work